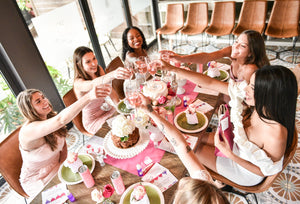 taylor made POLISH PARTIES
An unforgettable experience for you and your guests!
Polish Party Packs
Plan your party at home, at a special venue or anywhere you want. With TAYLOR MADE POLISH Party Packs you can take the party anywhere!
Everyday is cause for a celebration. 
When you want to make your event extra special TAYLOR MADE party packs offer an experience unlike any other.
All occassions
Birthdays, baby showers, bridal parties, ladies night, everything deserves to be celebrated!
choose your pack & color theme
Create memories
to last a lifetime
In a hectic world, the
simplest moments can create your most treasured memories. Taylor Made exists to curate those
moments.
amazing concept
TARA FROM WASHINGTON "I loved how everyone could make thier own color and mix and match colors with different kits."
Everyone loved it!
ALISHA - FROM TEXAS "My friends are still talking about how much fun they had but they're even happier with how long their polish lasts".
so much fun
KATIE FROM OHIO "We always wanted to name our own nail polish and this experience let us do that and more! We loved how creative the process was and you thought of EVERYTHING!"
We're not here for a long time, we're here for a good time
It's not difficult at all!  Step by step color and formulating instructions are provided. If you're more of a visual learner, you'll also have access to our
instructional video and recipe videos. No matter your learning style, using any of our methods is easy.  Polish lovers from 4 to 94 love creating with our kits. Experiencing the making polish with others gives the best opportunity to share your creativity, make memories and enjoy time together! 
No haven't hosted parties since the pandemic shutdown in 2020. And with our Party Packs, we haven't needed to. Our packs have been wildly successful in offering our amazing studio experience, anywhere!
Yes!  Each kit can be split across 3 people to create their own bottle of polish.  Through our in-person party experience the minimum number of polishes people wanted to create was 2 and the most popular choice was 3 bottles.  Because each bottle takes about 15 minutes to create, we recommend at least 2 bottles per person if creating polish is your main activity or theme. 
There are over 1000 possibilities included in each kit.  Every single shade can vary in the tint, formula and finish with every scoop, half scoop or drop of the liquid color ingredients and 4 textured dry ingredient.  No combination of the colors included in a single kit will create a bad or "wrong" color.  With options provided you have the ability to get your EXACT shade and texture within the kit's color range.  You can also vary
the amount of color ingredients added so you can choose to create a sheer, semi-sheer, 2 coat or 1 coat coverage formula. 

We recommend setting up the polish place-settings before the party*.  Each place setting should be set with the following:
Biodegradable
placemat (wrapped around each bottle)
Bottle(s)
Mixing Tool Cup (in the center circle)
Bamboo Wood Stir Stick(s)
Recipe Card(s)
Funnel(s)
Naming label (to name the polish color)
*See our inspo party pics here
The following Items are easily shared when more than one guest is splitting a kit:
Color Theory Guide
Formulation Guide
Color Ingredients (dry & liquid)
Measuring Scoops
For example, with a 4 kit pack the following can be organized:
12 guests can make 1 bottle each, 4 guests can each make 3 or 6 guests can each make 2 bottles of polish.
Outside of the established party pack sizes you can purchase individual kits as needed on
our site.  Free shipping would apply to those kits as well as any additional products added to your order. 
Party Packs shipped to the continental United States receive FREE shipping.  Order preparation takes between 2-4 days and shipping (once it departs our location) with the selected carrier (USPS, UPS or FedEx) can vary depending on your address and it's distance from our studio.  You have the option to upgrade to a faster shipping speed upon check out.  Kindly note that shipping speed does NOT include the order preparation time to pack and
ship your order.  If you're concerned about arrival time for a specific event date please reach out to hello@taylormadepolish.com and we'll be happy to answer any questions or verify the warehouse & studio fulfillment times. 
Have a question about our party packs?