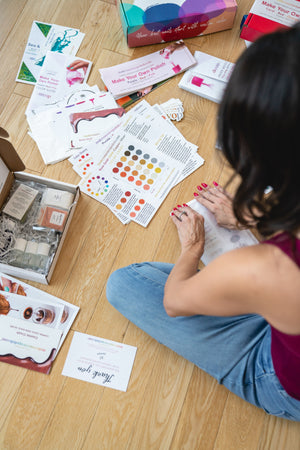 is to provide elevated clean beauty products and experiences.
Creative Expression
Everyone has their own signature style. You deserve a nail color that perfectly captures your style, your vibe, who you are now or who you want to become.
Transparency
Know what's on your body. Every product is vegan, cruelty-free, paraben-free, and free of the 10 most common harsh chemicals found in other commercial nail polish products.
Customization
TAYLOR MADE provides products that empower you to sync clean beauty with your own style and creative meaningful memories with the ones you love.
ABOUT
Anchored in historic downtown Easton, Taylor Made sits at the intersection of scrappy and stylish. We are deeply connected to our community and if there's one silver-lining from the pandemic, it's that our community has expanded to include 39 states and 5 countries. Every elevated clean-beauty experience is cause for a celebration. Even if it's the first step for an individual discovering that perfect shade, that vibrant hue, that feeling of empowerment from mixing, wearing, or sharing our products – we celebrate because we know one size fits none, and we embrace all authentically unique paths into bespoke clean beauty.

our founder
Meet Vanessa
Our founder's rare path through the military, corporate world, motherhood, and entrepreneurship formulates Taylor Made's foundational understanding that in a hectic world, the simplest moments can create your most cherished memories. Taylor Made exists to curate those moments. Each kit contains an artistic guide and all the tools a chef needs to make chemistry with the creative mind. Whether you're a nail polish novice or a mixing master, love is what you'll feel when your perfect shade is made.
Our premium ingredients are Vegan, Leaping Bunny Certified Cruelty Free, 10-Free, eco-friendly, and long-lasting so your polish pride lasts up to 2 weeks! Taylor Made is Woman/Veteran-Owned, and we put our money where our values are – directly into Women-Owned and Eco-friendly suppliers. We're not here for a long time, we're here for a good time – let's blend together!
The Name - Taylor made
The company is named after Vanessa's grandparents Carroll and Pearl Taylor. From a young age, they were instrumental in raising and supporting her creative spirit. Naming the company after such a positive and loving family felt right as she knew Taylor Made was destined to be a supportive environment for every person who walks through the door (or visits this site).
A deeper look
Our company and products are...
Woman Owned
veteran owned
Responsibly Sourced
10 Free & Paraben Free
Vegan
Cruelty Free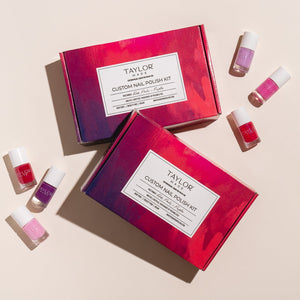 find your true hue
Our Custom Nail Polish Kits allow you the freedom to design your own non-toxic signature collection
Shop Kits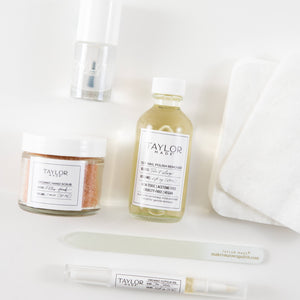 Your best nails ever
Our full line of nail care products offers the best in organic nail care to seamlessly fit into your lifestyle
Shop organic nail care