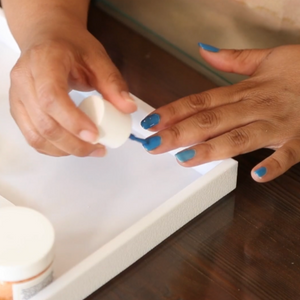 TAYLOR MADE Affiliate Program
Thank you so much for your interest in Taylor Made and the opportunity to become a brand affiliate! Your interest in our company is an honor and we are grateful for your support.
We want to team up with brand ambassadors who are truly passionate about our products, our experience and our small business.  Our mission is to provide an unforgettable and creative experience that strengthens your connection to each other and clean beauty products, especially for your nails. 
Our Make Your Own Polish experiences are even better when shared between friends, family, besties, sisters and anyone who is special to you. To make memories, to take care of themselves and to remember each other every time you wear a special color warms our heart and is part of our "why".  Our vision for the future is important and big...and we need your help to get our brand, experience and mission out there with us, because we can't do it alone.
The Taylor Made brand affiliate program is about growing our brand awareness and building a community to that believes in custom clean beauty that's safe for you. For the planet. For all.
Once you're approved as an affiliate, you will receive a 40% discount code to use on your next purchase. You will also be sent a code to share with your friends, family and followers to give them 10% off our products. Each time someone makes a purchase with your code, you earn 10% commission!
If you share our values, please fill out the application below to see if you'd be a good fit, and we will be in touch shortly! Thanks again!
Customization
TAYLOR MADE provides products that empower you to explore and define your own style, fearlessly be yourself, and enjoy a fully personalized hands-on experience.
Optional button
Transparency
Know what's on your body. Every product is vegan, cruelty-free, paraben-free, and free of the 10 most common harsh chemicals found in other commercial nail polish products.
Optional button
Self Expression
Everyone has their own signature style. You deserve a nail color that perfectly captures your personality and who you want to be or become.
Optional button