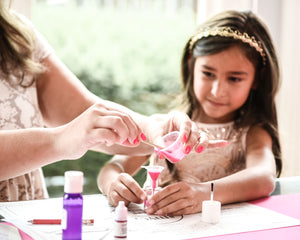 with our Custom Nail Polish Kits
Join us in studio
All the options of our kits plus a rainbow of ingredients from our Color Wall.
Make a reservation
Book your time slot via the button below and reserve a table for you and up to 3 guests.
Book
Pick a kit & create
Select a kit of your favorite color palette to use along with our amazing color wall of possibilities.
Explore kits
Bottle, name & enjoy
After creating your 3 polish colors, you'll get to bottle and name your creations too!
Name Inspiration
The pandemic forced all our classes to be cancelled, so we transformed our live teachings into easy-to-follow instruction manuals. Now you can go at your own pace, with a smaller group or just you by yourself (no more waiting for classes or booking big private parties). The experience is accessible to everyone and even availability for walk-ins!   
We're not doing large parties at our studio because our new Party Packsgive you the freedom to host parties anywhere and anytime! No more battling for the same studio time on a Saturday afternoon, you can host a party with Taylor Made in your home or at any party venue, even virtually!   
Not at all! Watch this video and see what other customers have to say below. You'd be surprised by how simple and fun creating your own color can be, it truly is a no-mess and no-stress event.  
Here's a secret: you can't mess up. Each color step is just that, one step, so you won't accidentally get some hideous shade of brown by adding one scoop. If you try on your shade, and don't feel like it's perfect, just add a dash of pigment or liquid concentrate. 
We've got you covered! Our new and stylish "party in box" gives you all our Taylor Made studio style in one place! Check them outhere! Want more party inspiration? Be sure to visit our Party Blogs for fun tips and tricks to throwing a party your guests will love.   
Each kit makes 3 bottles of polish.  (Which*newsflash*comes out to being less expensive than purchasing premium nail polishes)!
Feel free to get in contact by emailing us at hello@taylormadepolish.com
Have a question about booking?
creativity never goes out of style